Video Series
LIB LAB, short for Library Laboratory, is a fun, educational Youtube series produced by the Corvallis-Benton County Public Library in partnership with AJ Fillo at Oregon State University. Each episode explores a variety of scientific fundamentals with playful experiments and demonstrations. The videos live online, enabling audiences from around the world to participate in the experiments.
Experiments
Many of the videos include directions for a related experiment that young viewers can conduct at home.  Residents of Benton County can stop by the Youth reference desk at the Corvallis branch to pick up experiment materials, while supplies last!
Why LibLab?
When a star begins its life the elements Hydrogen, Helium, Lithium, Beryllium, and Boron are formed through stellar fusion.  These 5 elements are the foundation on which the universe is built.  As in the formation of a star, Lib Lab (pronounced as Lithium and Boron), strives to fuse the ideas of science, technology, engineering, arts, and mathematics (STEAM) to provide a foundational education for students in the local community and around the nation enabling them to grow and explore the world around them as budding scientists, engineers, mathematicians, and artists.  In support of this fusion of ideas, Lib Lab strives to encourage education through collaborative teaching practices to expose students to a wide range of material and encourage cooperation and self-guided learning.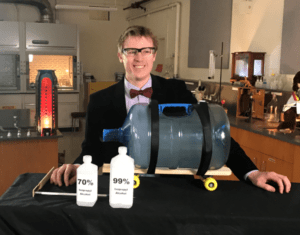 Creator / Writer / Director / Host
A.J. Fillo is a PhD candidate in Mechanical Engineering at Oregon State University and the mind behind Lib Lab. His specialty is thermal and fluid sciences, with a focus in combustion. In addition to his academic pursuits, he has five years of experience as a professional magician and actor. A.J. is passionate about STEAM education and an avid supporter of the library and maker's club.
Follow him on twitter twitter.com/MostlyEnginerd or check out his website http://ajfillo.com/
Series Producers
LIB LAB is produced by a team of Emmy award-winning filmmakers who have a combined 30 years experience in video production. Their work has been seen by millions of people around the world, and they are proud to call Corvallis home.
Video Dads: Travis Gilmour and Slavik Boyechko