Try out our kits and tool sets designed to teach you new skills and to get you making!  Maker kits are available because of the generous support by the Friends of the Library.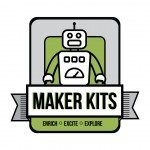 TI-84 Calculator: Ideal for use in pre-algebra, algebra and geometry equations. Also may be used for business & finance, biology, chemistry and physics equations.
GoPro Hero: Wear this camera to capture gorgeous, professional-quality video and photos of your favorite activities from your point of view.
Finch Robot: The Finch is a small robot designed to inspire and delight students learning computer science by providing them a tangible and physical representation of their code.
Kano Computer: Build and code a computer; it's a fun way to make, play and express creativity with technology.
Laser Thermometer: Instantly measure surface temperatures of objects which are difficult or unsafe to contact. Use it for cooking, car maintenance, real estate, electrical engineering and more.
Leak Detector: Increase the efficiency of your home's insulation by finding leaky areas that can lead to higher heating and cooling bills.
MaKey MaKey: Turn everyday objects into touchpads.
Microscope: The COSMOS hand-held digital microscope has magnification up to 54x so you can explore hidden details in insects, plants, rocks, coins, stamps, and more.
Ozobot: Use markers to draw color-coded paths on white paper and watch as this tiny robot follows your instructions.
Perplexus Rookie: Challenge yourself and exercise your brain with this three-dimensional puzzle.
Slide Scanner: Convert slides, negatives, 8mm film, and Super 8 movies into digital JPEG images to share and preserve them forever.
Sphero 2.0: Robotic ball that you control with a tilt, touch or swing from your smartphone or tablet.
Squishy Circuits: Learn how to safely create electronic circuits using conductive and insulating dough to make fun creations with light-up LED accents.
Stud Finder: Detect and locate metal, AC voltage and wood studs.
Ukulele: Learn how to play a warm-toned ukulele.
VR Headset: transform your smart phone screen into a super immersive virtual reality experience including lenses, magnets and headstrap.
Kill-a-Watts: Electricity usage monitor that measures the energy used by devices.
Launchpad Tablets: these pre-loaded tablets are perfect for children who want to learn various subjects such as math, Spanish language, animals, etc.
Speck Indoor Air-Quality Monitors: detects fine particulate matter in your indoor environment and informs you about changes and trends in particle concentration.
Dremel Tool: High speed rotary tool for drilling and cutting.
Littlebits Base Kits: Includes everything needed to design and prototype your own interactive creations.
Snap Circuits: Create working electronic circuits.
If you have ideas or suggestions for items that would be useful as a Maker Kit, please let us know by calling 541-766-6793 or emailing us.
Three week checkout.
Limit of 1 kit per card.
Maximum one renewal.
Return kit to any service desk.
For maker kits, search the library catalog for maker kits or library of things. For launchpads, search the catalog for launchpad tablet.
Each service desk has a binder of items, and holds can be placed there also.
As with other items in our collection, if lost or damaged, patrons pay the replacement cost plus a $5.00 reprocessing fee.