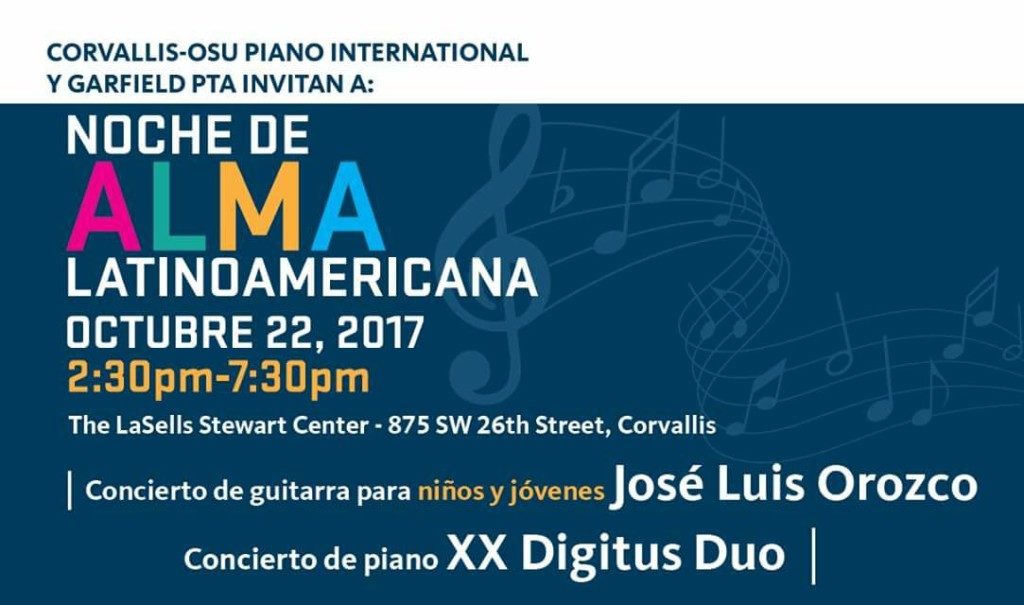 Corvallis-OSU Piano International y Garfield Parent-Teacher Association invitan a:
Concierto presentando a José-Luis Orozco, artista bilingüe en ingles y español para niños y concierto de piano con XX Digitus Duo. La noche estará rodeada de actividades para toda la familia e invitamos a que usen trajes típicos o accesorios que representan su cultura durante el evento. Evento y estacionamiento gratuito!
————–
Concert presents José-Luis Orozco, bilingual (English/Spanish) children's musician, and piano concert by XX Digitus Duo. The evening will offer fun activities for everyone and we invite all to wear traditional wear or accessories that represent your culture during the event. Event and parking are free! There will be activities for the whole family including crafts and activities from the Library. Hosted by Corvallis-OSU Piano International and Garfield Parent-Teacher Association.
Schedule:
2:30 – 3:30 pm: Activities for youth, snacks
3:30 – 4:30 pm: Concert by Jose Luis Orozco
4:30 – 6:15 pm: Activities for youth, Folklore dance by Fiesta Mexicana and Alma Latina
5:00 – 6:15 pm: Concert by XX Digitus Duo (pre-k youth activities available)
6:15 – 7:30 pm: Dinner and folkloric dancing presentation.
Connect to this event on Facebook. View or print the event flyer.