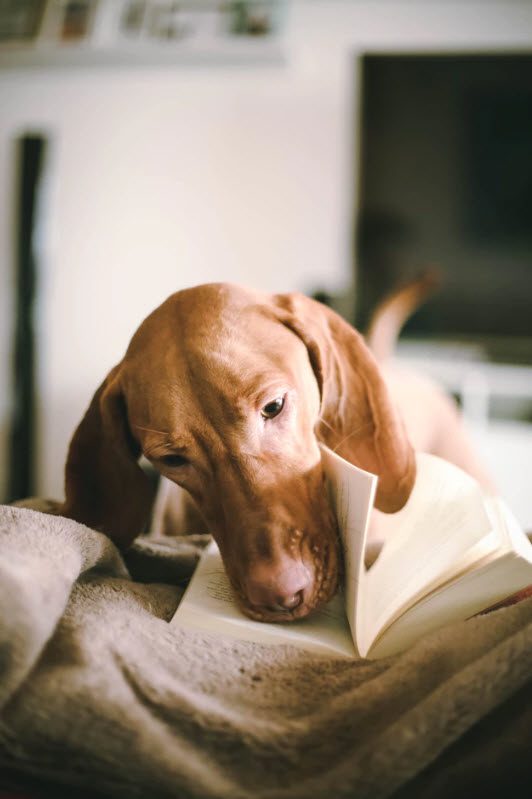 Virtual Read to a Dog Sessions
Young readers can read online with a trained, friendly Reading Education Assistance Dog. While the library building is closed, we are offering READ Dog sessions online through GoToMeeting, a video call service that can be used on a computer, tablet, or smartphone. You can even dial in to the session through a phone line.
Please find the dates and times for our upcoming virtual READ Dog sessions below, and sign up for a time slot that works for you and your young reader. Sign-ups will  close the day of the session, or as soon as the session is full.
Due to the virtual environment, we're able to offer 4 ten-minute reading time slots per session; for that reason, we ask that each reader sign up for one time slot per week, please. A library staff member will help facilitate the virtual reading time for your child, and all links, passwords, and information will be sent to you once you sign up.
Regularly scheduled weekly READ Dog virtual sessions are Thursdays, 2:30-3:30pm, starting October 8, 2020. Register for a session here.

The Reading Education Assistance Dog program (R.E.A.D.) provides beginning readers an opportunity to practice their reading skills in a non-threatening environment. The dogs and their handlers will work with individual children on a one-on-one basis for approximately 10 minutes during a session. There is no charge for this program.
The dogs and handlers have been insured for liability and have undergone reading education training in addition to their extensive training and registration to do animal-assisted therapy.
If you are interested in having your dog participate in the R.E.A.D. program, please contact Welcome Waggers, Wendy McCoy, at 541-760-0476.