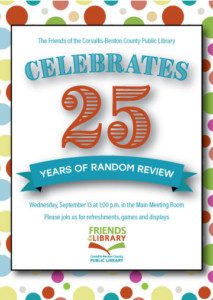 Wednesday, September 13 | Noon – 1:30 PM | Main Meeting Room |

Random Review celebrates 25 years! Join us to celebrate as we kick off the 2017-2018 season with a 25th anniversary celebration. We will revisit eight books from previous Random Review seasons, with short readings from several local reviewers:
All the Light We Cannot See – Reader: Emma Nichols
Being Mortal – Reader: Mary Austin-Seymour
Beloved – Reader: Fay Stetz-Waters
Boys in the Boat – Reader: Rick Wallace
The Grapes of Wrath – Reader: Tracy Daughtery
Riverwalking – Reader: Ashlee Chavez
Seabiscuit – Reader: Gary Whitehouse
Wait Till Next Year – Reader: Elena Passarello
About Random Reviews
Random Reviews are sponsored by The Friends of the Corvallis-Benton County Public Library. Reviews are held on the second Wednesday of the month from 12:00 – 1:00pm and are open to the public and free of charge.  Coffee, tea, and cookies are served. Feel free to bring your lunch.
A sign language interpreter can be provided with 48 hours notice. Call 541-766-6928.