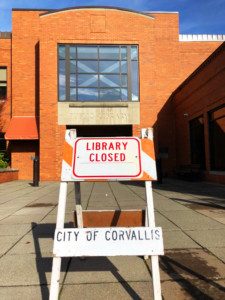 Library Closure: Monday, October 7th through Friday, October 11th, 2019
Summary:  The Corvallis Library building will be closed for repairs Monday, October 7 – October 11.  No items will be due during the closure.
You can still pick up arrived holds from the back (north) parking lot from 10:00 AM to 5:30 PM each day we're closed.
The Bookmobile will follow its usual schedule all week.
More details:
The Corvallis Library will be closed Monday, October 7 – Friday, October 11 for phase two of a major plumbing repair project. During this closure other annual maintenance tasks that impact public entrances into the Library will occur as well. We understand this is incredibly inconvenient and apologize for the long closure. Unfortunately this closure is necessary as on some of the days,  restrooms will be out of service, no running water will be available,  and many areas of the library will be closed due to construction work.
No items are due during this time frame. We will still be accepting your items for return and the drive-through book drop in the parking garage will be available for your use during most times.
Because we know it will be challenging to be without library services for a longer period of time, we are offering holds pickup during certain hours. Library staff will be available in the north parking lot near the stairs, and you can pick up any holds that are ready for you. This service will be offered throughout the week from 10:00AM-5:30PM.
Again, we thank you for your understanding and patience during the closure.