Tuesday, Sept. 3rd | 6:30 – 7:30 p.m. | Board Room |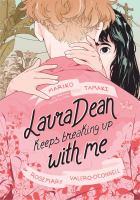 Discussing Laura Dean Keeps Breaking Up with Me by Mariko Tamaki & Rosemary Valero-O'Connell
Laura Dean, the most popular girl in high school, was Frederica Riley's dream girl: charming, confident, and SO cute. There's just one problem: Laura Dean is maybe not the greatest girlfriend.
Mariko Tamaki and Rosemary Valero-O'Connell bring to life a sweet and spirited tale of young love that asks us to consider what happens when we ditch the toxic relationships we crave to embrace the healthy ones we need.
Join us for our next book club meeting on Tuesday, September 3rd at 6:30 p.m. in the Library's Board Room.