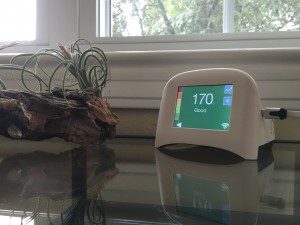 The CBCPL is now offering Speck air quality monitors to the public for check out.
Speck air quality monitors, which detect fine particulate air pollution in the home, will help people monitor the air quality indoors and inform them about changes and trends in particle concentration. People can use Speck to monitor changes in air quality if they open a window, turn on a vent, wipe away dust or use certain cleaning products, for example.
Speck is designed for use indoors, helping users realize when polluted outside air is coming into the house, or to recognize pollution sources within the home. It is also Wi-Fi connected, so air quality data can be uploaded for analysis and shared, if desired, via the Internet.
Speck was developed by Carnegie Mellon University's CREATE Lab. Through their Libraries and Advocates program, they hope to reach 100 public libraries; in this phase 27 libraries have been chosen. Participating libraries receive three Speck air quality monitors per branch, free of charge and access to the Speck team for troubleshooting and support. Requirements for the program include that libraries circulate Speck monitors in their community and invite patrons to optionally share feedback and stories about their experience.
In conjunction, Speck is offering an air quality advocate program for interested persons. "We also want to build a community of local experts who can work with their neighbors and the libraries to use Speck," said Bea Dias, project director for the CREATE Lab. People selected for the Speck Air Quality Advocate Program receive a free Speck and training in return for providing 10–20 hours of service annually. Currently, 19 advocates are on board.
CMU's CREATE Lab hopes to continue expanding their Libraries and Advocates program, but first they must fund-raise to run another phase of the program. In the meantime, individuals and other libraries can still apply through their website.
To learn more about Speck sensors, refer to https://www.specksensor.com/ and the library's Speck page.
The Speck sensors are an addition to the library's growing collection of non-traditional items available to the public, which include Kill-a-Watt electricity usage monitors, videogames and the ability to request items to be printed on a 3-D printer. In the following weeks, the library will expand their collection to include a "library of things" (instruments, video equipment, and many more items) and tough tablets designed for children that come with a set of apps.[/fusion_builder_column][/fusion_builder_row][/fusion_builder_container]