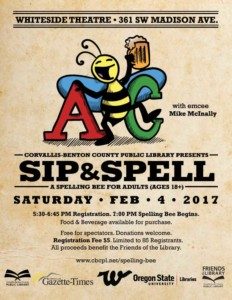 Check out the words used at the 3rd Annual Sip & Spell here! Congrats to Dave M. for taking home the grand prize! Great job, spellers!
Corvallis-Benton County Public Library presents the 3rd annual Sip & Spell: A Spelling Bee for Adults, hosted by Mike McInally, Editor of the Corvallis Gazette-Times, on Saturday, February 4, 2017 at 7:00 PM at the Whiteside Theatre (361 SW Madison Ave) in Corvallis.
Do you spell words like synecdoche in your sleep? Maybe you don't care what pococurante is, but you definitely know how to spell it? Then don't miss Sip & Spell, a spelling bee for adults age 18 and over. We'll be pulling all of the big words out of the dictionary and prizes will be awarded to the 1st place winner.
Participants in the Bee may register on the day of the Bee between 5:30pm and 6:45pm at the Whiteside Theatre. Registration is limited to the first 85 registrants. There is a $5.00 registration fee that may be paid by cash, check, or credit card during the registration period. Sip & Spell is free to watch, so all are welcome to sit on the sidelines to cheer and heckle.
Food provided by Café Yumm and beer and cider from Block 15 and 2 Towns Ciderhouse will be available for purchase.
"Cheats" may also be purchased at the time of registration. For the full Bee rules including more about cheats, please go to http://cbcpubliclibrary.net/spelling-bee/
This event is sponsored by the Friends of the Corvallis-Benton County Public Library, OSU Libraries, Corvallis Gazette-Times, and Whiteside Theatre. All proceeds from this event benefit the Friends of the Library.
For more information, please call 541-766-6793. If any member of the public has a disability and needs accommodations to attend this event, please call 541-766-6928, allowing 48 hours notice for this service.
Information about last year's Sip & Spell:
If you're interested in reading more about Sip & Spell from previous years, please refer to 2016 and 2015.
Check out pictures from 2016 and 2015 and read the 2015 story about it from the Gazette Times.