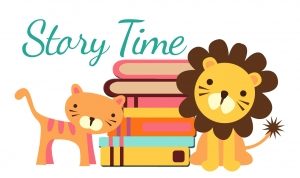 NEW TIME! Starting January 2, Storytime begins at 10:30 AM!

Beginning January 2, 2018, the Corvallis Public Library storytime schedule will change.   Storytimes will be held at 10:30 am on the first floor of the Library. Space in the storytime room is limited. Free tickets will be available in the Youth area starting at 10:00 am.
Note: Storytime will not be held from Monday, January 29th through Friday, February 2nd, due to building maintenance and staff training. Saturday Stories will be held as scheduled at 10:30 a.m., Saturday, February 3rd.
Tuesday:  Infant Storytime for children 0-12 months old
Wednesday:  Wobbler Storytime for children 1-2 years old
Thursday:  Toddler Stortyime for children 2-3 years old
Friday:  Preschool Storytime for children 3-5 years old
Saturday programs including Family Music Fun, Science Saturday, Saturday Stories and los cuentos will also begin at 10:30 am, no tickets needed.
Family Storytime for all ages will continue to be offered on Monday evenings at 7:00 pm.
Please visit www.cbcpubliclibrary.net/storytime for the complete storytime schedule. For more information, please contact the Youth Services Reference Desk at 541-766-6794.