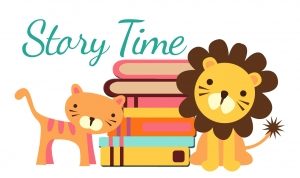 New Corvallis Storytime Schedule beginning January 2, 2018:

Beginning January 2, 2018, the Corvallis  Public Library storytime schedule will be changing.   Storytimes will be held at 10:30 a.m. on the first floor of the Library.  Space in the storytime room is limited. Free tickets will be available in the Youth area starting at 10am.
Tuesday: Infant Storytime for children 0-12 months old
Wednesday: Wobbler Storytime for children 1-2 years old
Thursday: Toddler Stortyime for children 2-3 years old
Friday: Preschool Storytime for children 3-5 years old
Saturday programs including Family Music Fun, Science Saturday, Saturday Stories and los cuentos will also begin at 10:30 a.m., no tickets needed.
Family Storytime for all ages will continue to be offered on Monday evenings at 7:00 p.m.
---
Join us for Storytime!
Storytimes are approximately one-half hour long and are filled with stories, songs, fingerplays, and movement designed for infants, wobblers, toddlers, or preschoolers. The goal of storytime is to promote the joy of shared reading, the benefits of early literacy, and the importance of the caregiver-child connection. Storytime is a fun, interactive, language-rich program designed especially by our youth services librarians to help young children build the skills they'll need when they learn to read. The youth services librarians plan each storytime based on research and best-practices developed by the Every Child Ready to Read program from the Public Library Association and the Association for Library Service to Children. Every Child Ready to Read involves proven practices in five areas for helping build a positive foundation for learning to read: talking, singing, reading, writing, and playing. 
Storytime is offered year-round as a drop-in program: first come, first served. Space is limited due to the room capacity and to provide a positive, safe environment for all. Children must be accompanied by a grown-up. Many lasting friendships start at storytime! Join us!
Corvallis Storytime Schedule
New! Starting January 2018, the storytime schedule will be as follows:
Family Storytime (all ages): Mondays at 7 p.m.
Infant Storytime (birth-1 year): Tuesdays at 10:30 a.m.
Wobbler Storytime (1-2 years old): Wednesdays at 10:30 a.m.
Toddler Storytime (2-3 years old): Thursdays at 10:30 a.m.
Preschool Storytime (3-5 years old): Fridays at 10:30 a.m.
Saturday Stories (all ages): 1st Saturdays at 10:30 a.m.
¡los CUENTOS! (bilingual English/Spanish storytime) (all ages): 2nd Saturdays at 10:30 a.m.