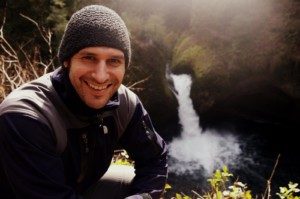 Wednesday, Mar. 6th | 6:00 – 7:30 p.m. | Main Meeting Room |

Global displacement is on the rise, thanks to intractable conflicts, economics, and climate change. Oregonians have and will continue to see the results of international migration in our neighborhoods. How might we build more informed, responsive, resilient, and vibrant communities?
This is the focus of "The Space Between Us: Immigrants, Refugees, and Oregon," a free conversation with Manuel Padilla on Wednesday, March 6, 2019 at 6:00 p.m. in the Main  Meeting Room of the Corvallis-Benton County Public Library (645 NW Monroe Ave.). This program is hosted by the Friends of the Library and sponsored by Oregon Humanities.
Manuel Padilla has done peace work in Haiti, Chad, and Washington, DC, working with internally displaced people, immigrants, and refugees. Currently he implements reconciliation workshops in refugee contexts with the Jesuit Refugee Service, works with youth through restorative justice frameworks, and volunteers with Ecumenical Ministries of Oregon's Circles of Support and Accountability program.
Through the Conversation Project, Oregon Humanities offers free programs that engage community members in thoughtful, challenging conversations about ideas critical to our daily lives and our state's future. For more information about this free community discussion, please contact Bonnie Brzozowski at 541-766-6965 or bonnie.brzozowski@corvallisoregon.gov.
Oregon Humanities (921 SW Washington, Suite 150; Portland, OR 97205) connects Oregonians to ideas that change lives and transform communities. More information about Oregon Humanities' programs and publications, which include the Conversation Project, Think & Drink, Humanity in Perspective, Bridging Oregon, Public Program Grants, and Oregon Humanities magazine, can be found at oregonhumanities.org. Oregon Humanities is an independent, nonprofit affiliate of the National Endowment for the Humanities and a partner of the Oregon Cultural Trust.