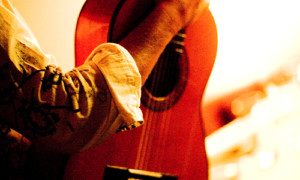 Saturday, February 17, 2017 | 3:00 PM | Main Meeting Room |

Join us for three free concerts at the library this winter season, presented by the Corvallis Guitar Society!
December 16th Concert by Members of the Corvallis Guitar Society
This concert will include classical ensemble, duet and solo works with a focus on both seasonal festivity and music styles from around the world from the Middle Ages to the 20th century.
January 20th Concert Featuring Flamenco Guitar duo Berto Boyd and Grant Ruiz
Berto Boyd and Grant Ruiz will perform original Flamenco music from their CD "Convivencia". Their group Flamenco Pacifico has been a favorite among Oregon festivals such as Oregon Shakespeare Festival, Oregon Country Fair, Britt Fest and DaVinci days.
February 17th Concert Featuring Classical Guitarist Jon Sharp and Soprano Rebecca Fromherz.
This concert will feature music from South America including Heitor Villa-Lobos, one of Brazil's greatest composers, along with Argentineans Jose Luis Merlin and Jorge Morel. We will also explore some of the modern compositions by American guitar maestro Andrew York and look back at early music from Europe that inspired the New World.
The Corvallis Guitar Society
The mission of the Corvallis Guitar Society is to promote classical and related guitar styles in the greater Willamette Valley area from an educational, appreciation, and performance perspective. CGS has, since its founding in February 2015, been successful at 'bringing local artists out of the woodwork' and encouraging people of all ages and abilities to participate, as well as bringing in featured artists from outside to educate and inspire.
This concert series will provide an opportunity for local residents to enjoy the wonderful world of guitar and for local and regional musicians to provide an insight into the vast range of music from the renaissance to the modern era from all around the world.
You can find out more about the guitar society at www.corvallisguitarsociety.org