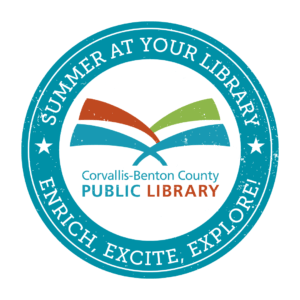 Summer at Your Library ended on September 8, 2017. Thanks for playing!
Winners:
Jessica, Ann, Gail, Sally, Eleni, Sarah, Sarah, Linda, Amanda, Kathy, Marta, Jamie, and Rebecca won $5 gift certificates to the Corvallis/Albany Farmers' Markets as well as a free book!
Ulrike, Cassie, Christine, Freda, and Debra won two tickets to Darkside Cinema!
Kim, Kathy, Jacob, Rachel, and Kate won Northwest Forest Annual Passes!
Judy and Emily won $50 iTunes gift certificates!
Lucy won a FitBit Charge 2!