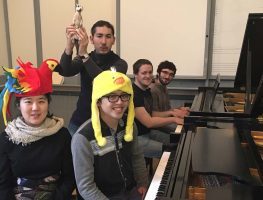 Saturday, March 18, 2017 | 11:00 am | Main Meeting Room
Main Meeting Room
You are invited to our Animal Carnival! All are welcome to a rollicking performance of Saint-Saëns's witty and wonderful Carnival of the Animals. Join us for a morning of delightful music featuring OSU Collaborative Piano students on two grand pianos, humorous poetry, and other surprises! This children's program is part of Steinway Day: People and Pianos, presented by Corvallis-OSU Piano International. This children's music program — less than an hour long — is intended for preschool and school age children, but will delight adults, too. The program will revolve around music and include some combination of storytelling, drawing, movement, and dance. Free admission.
Co-sponsored by Friends of the Library.
Through partnerships with Chintimini Chamber Festival, Corvallis~OSU Piano International, Majestic Chamber Music, the Friends of the Library, and other music programs in the community, the Corvallis-Benton County Public Library offers periodic music performances and special events for children and families.
Save