Thank you for your interest in volunteering for the Corvallis Benton Public Library! Please note that the Corvallis library's need for volunteers changes throughout the year and there may not always be a volunteer position available. Currently, the Corvallis Branch is accepting applications for Event Assistants, and for Los Cuentos Storytime (must speak Spanish.) Alsea and Philomath branches do not have any volunteer positions available. The Monroe branch is accepting applications; please contact them directly.The library is not able to accept volunteer applications for court mandated or community service hours. Job descriptions are available on the second page  here. (Not all jobs are available at all branches.) Currently, the Alsea and Philomath branches do not have any volunteer positions available."
(Friends of the Library, and the Library Foundation have separate application processes; please contact them directly for information about possible volunteer opportunities.)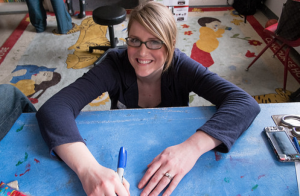 Our Library is one of the busiest libraries in the State, and values the help of dedicated volunteers to meet the needs of our population in the City of Corvallis and throughout Benton County. The Library strives to offer services to the entire community by providing materials and service that cross cultural, economic, and educational boundaries.
Volunteers are essential to helping the Library provide a high level of service at a low cost to the community. More than 300 volunteers give over 14,000 hours to the library every year. They generously contribute their time and hard work in a number of ways.
If you want to volunteer, read through our volunteer job descriptions and fill out an application for adults (18yrs+) or students (ages 14-17).
How Our Volunteers Help
Check in and shelve library materials, and search for items that patrons put on hold

Maintain local history newspaper files and convert paper documents to a digital format

Keep our collections up-to-date and in good repair

Organize and deliver materials to homebound patrons, childcare centers, senior facilities, and branch libraries

Use language skills to help non-English speaking patrons

Keep library art and materials clean

Assist children in their computer areas

Clean and troubleshoot public computers and electronic equipment

Help with programs, including Summer Reading, Storytime, and teen events

Share special talents for various projects
View list of Volunteer Job Descriptions for details about specific jobs. Not all jobs will be available.
Library Volunteers Need To:
Be 14 years or older
Be able to pass a background check for positions working with youth or senior
Like people and books
Be able to commit to a weekly schedule. Most volunteers work a scheduled two-hour shift each week, and make a commitment to work for at least six months. However, some program assistants (Summer Reading, READ Dogs, Storytime) may only volunteer a few times each year. We are unable to accept court ordered community service volunteers, since most court ordered volunteering lasts less than six months. However, the Library will accept student volunteers who are fulfilling community service requirements for their school.
Enjoy the quiet hard work that goes into making library materials, programs, and services available to all.
Join our Team of Volunteers!
Pick up a Volunteer Application at any Library service desk or download it above.
Return it to any Library service desk or mail it to the Volunteer Coordinator.
If there are current openings that match your interests, the Volunteer Coordinator will contact you for a brief interview.
If you are selected to become a volunteer, you will be placed and begin training, usually within three weeks.
If an opening is not currently available, your application and interests will be noted in our database and placed in a resource file. We will contact you as positions become available.
At the Corvallis-Benton County Public Library, we strive to provide a meaningful and enjoyable volunteer experience for those who wish to share their time and skills with us. Thank you for your interest in supporting the Library!
For more information, contact:
Volunteer Coordinator
Corvallis-Benton County Public Library
645 NW Monroe Ave.
Corvallis, OR, 97330
CBCPLVolunteer@corvallisoregon.gov