Teen Summer Reading 2017 – Build a Better World!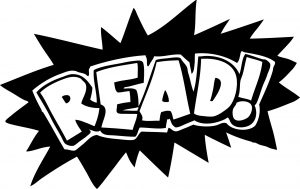 READ & WIN! Kick off your summer with a free book prize when you sign up for Summer Reading starting on June 12! Keep on reading to earn a chance to win other great prizes!
Read or listen to any 10 books, graphic novels, comic books, magazines, or audiobooks & enter a prize drawing just for teens! Record what you read on your reading log:

Corvallis Teen Reading Log
Monroe Teen Reading Log
Philomath Teen Reading Log
There's no reading list – read whatever you want! Read library materials or titles you already own, or any combination of the two. Want some ideas of great books to try this summer? Check out this middle school booklist from ALSC (Association for Library Service to Children) and this list of books Benton County teens read and loved last summer!
Write the title of each item & the date you finished reading or listening to it on your reading log. Pick up a reading log at your local library beginning June 12th!
Earn 1 summer reading prize drawing ticket for each completed summer reading log you turn in. You may turn in up to 3 logs to earn up to 3 tickets. Turn in reading logs by September 8th. Drawing will take place after that date and winners will be contacted. One prize per winner.
Earn extra prize drawing tickets! Earn 1 extra ticket for each teen summer reading event you attend. Check out the summer event schedule below.
Save
Save
Save
Save
Save
Save
Free Lunch in Corvallis & Philomath!
All youth 18 & under are able to get FREE lunch at the Corvallis Public Library and Philomath Community Library this summer! Lunch includes milk, main entrée, fruit, and veggies. June 26th-September 1st, Monday-Friday, 12:15-12:45 pm at each location.
Corvallis Teen Summer Events:
JUNE
6/12: Summer at your library begins! Pick up materials at Youth Services desk
6/24 @ 10am: Bookin' It Fun Run, Corvallis Riverfront
6/27 @ 1pm: Teen Summer Movie – Sing!
6/29 @ 1pm: Teen Day – games and making
JULY
7/6 @ 1pm: Teen Day – movie, gaming, and making
7/11 @ 1pm: Teen Summer Movie – Queen of Katwe
7/13 @ 1pm: Teen Field Day – Bubble Soccer and Nerf Games, field at SW 11th and Monroe
7/18 @ 1pm: Teen Summer Movie – Moana
7/20 @ 1pm: Teen Day – collaborative art day, Part 1, and gaming
7/25 @ 1pm: Teen Summer Movie – Interstellar
7/27 @ 1pm: Teen Day – collaborative art day, Part 2, and gaming
AUGUST
8/1 @ 1pm: Teen Summer Movie – Kong: Skull Island
8/3 @ 1pm: Teen Summer Book Club – Found by Margaret Peterson Haddix
Looking for events at our other library locations? Check them out here: Monroe Teen Events and Philomath Teen Events
Save
Save