Teen Summer Reading 2023 starts June 1!
All teens entering grades 6-12 can participate in the 2023 Teen Summer Reading Program from June 1 – August 31, 2023. Keep track of the days that you read or listen to books this summer and take part in some fun activities.

1. Get a free book and bag!
Participants receive one free book and bag at a library branch (or request one by delivery), while supplies last.
2. Track your reading with a reading log.
Fill in one circle on your paper reading log for each day that you read. We recommend reading for at least 20 minutes a day.
Read for 35 days total between June 1st and August 31st, 2023.
3. Turn in your paper log  to complete the Summer Reading Challenge: earn a second free book, and an entry into our end-of-summer prize drawing!
We'd love to hear from you! Please share your feedback with us here!

For questions, contact Youth Services, 541-766-6794 or email Youth Services.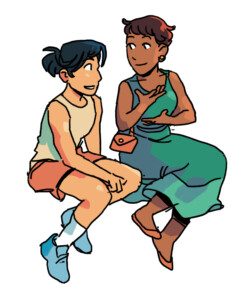 Summer Reading Book Ideas
Summer Teen Library Events
Teen Pride Party
Friday, June 9, 6:30 PM
Corvallis Library Main Meeting Room
Teens in grades 6-12 can celebrate the rainbow at this LGBTQ+ Pride Party! Pride-themed activities, movie, and snacks provided. Permission form required for after-hours events. No sign-up needed.
Saturdays at 3pm on the following schedule:
Sat 6/10 – Episode 1
Sat 6/17 – Episode 2
Sat 7/1 – Episode 3
Sat 7/8 – Episode 4
Sat 7/29 – Episode 5
Sat 8/12 – Episode 6
Sat 8/19 – Episode 7
Sat 8/26 – Episode 8
Sat 9/2 – Episode 9
Teen Bubble Soccer
Friday, June 30, 10:30 AM
Avery Park, Corvallis
Teens in or entering grades 6-12 can join in a game of Bubble Soccer at Avery Park! Lawn games, bubble soccer equipment, and snacks will be provided by the library. We'll be on the lawn across from the Parks and Rec building at the park.
Teen Water Tag
Friday, July 14, 10:30 AM
Central Park, Corvallis
Teens in or entering grades 6-12 can join a game of water tag and other water games at Central Park! Water tag equipment, games, and snacks provided by library. Teens are encouraged to wear clothes that can get wet and to bring a towel! We'll be on the lawn near the gazebo-structure at the park.
Graphic Novel Workshop with Breena Bard
Saturday, July 15, 1:00 PM
Corvallis Library Main Meeting Room
Express your unique voice through writing and drawing at this graphic novel workshop with author Breena Bard! This event is for tweens in grades 4-6 and teens in grades 6-12 (incoming 4th and outgoing 12 are welcome!)
Teen Late Night
Friday, July 28, 7:00 PM
Corvallis Library Main Meeting Room
Teens in or entering grades 6-12 can take over the library into the night this summer! Join other teens in games, art projects, movies, and more during this special event. NOTE: all teens must turn in a permission form signed by a parent or guardian to participate. Permission forms will be available at the library at the Youth Desk and in the teen space, as well as at the event.
Art, Sound and Music
Thursday, August 3, 1:00 PM
Corvallis Library Main Meeting Room
Explore the intersection of art, science, sound, music and light with Visiting Fulbright Scholar Dr. Derek Fish, and other local creatives.
Thank you to our Summer Reading supporters: Friends of the Library, City of Corvallis Parks and Recreation, and the State of Oregon Library Ready to Read Grant.