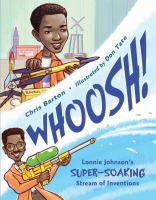 Monday, July 29, 2019 | 1-2 pm | Main Meeting Room |
Participate in a book discussion with fun activities! The Kids Book Club is for kids reading beginning chapter books. A limited number of copies of each month's book are provided by the Friends of the Library and are available at the Youth Reference Desk. For more info, contact Youth Services, 541-766-6794.
Summer Schedule:
July 1, 2019, 1:00-2:00 pm: Mia Mayhem is a Superhero! by Kara West
Eight-year-old Mia Macarooney is delighted to learn she is from a family of superheroes, but her acceptance into the Program for In Training Superheroes requires she take a placement exam.
July 15, 2019, 1:00-2:00 pm: Binky the Space Cat by Ashley Spires
Binky's blast-off into outer space (outside) to battle aliens (bugs) is delayed when he realizes he's left something behind–and it's not the anti-gravity kitty litter.
July 29, 2019, 1:00-2:00 pm: Whoosh!: Lonnie Johnson's Super-Soaking Stream of Inventions by Chris Barton (winner of the 2019 Beverly Cleary Children's Choice Award)
Chronicles the life and achievements of the NASA engineer and inventor, from his childhood to his accidental invention of the Super Soaker water gun.
For more information, contact Youth Services: 541-766-6794.