This Month's Book Club Selection
Jayber Crow by Wendell Berry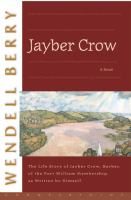 "Jayber Crow, born in Goforth, Kentucky, orphaned at age ten, began his search as a "pre-ministerial student" at Pigeonville College." "Eventually, after the flood of 1937, Jayber becomes the barber of the small community of Port William, Kentucky. From behind that barber chair he lives out the questions that drove him from seminary and begins to accept the gifts of community that enclose his answers. The chair gives him a perfect perch from which to listen, to talk, and to see, as life spends itself all around. In this novel full of remarkable characters, he tells his story that becomes the story of his town and its transcendent membership." –Provided by the publisher
*Contact us for information on how to join!
Join us for our next book club meeting on March 17th at 7:00 pm via GoToMeeting.
Upcoming Selections:
4/21  Girl, Woman, Other by Bernadine Evaristo
5/19  I Am Not Your Perfect Mexican Daughter by Erika Sanchez
6/16  The Vanishing Velazquez by Laura Cumming
7/21  Becoming by Michelle Obama
8/18  The Water Dancer by Ta-Nehisi Coates
9/15  The Coddling of the American Mind by Greg Lukianoff and Jonathan Haidt
10/20   The Yellow House by Sarah Broom
11/17  The Alchemist by Paulo Coelho
The Corvallis-Benton County Public Library Book Club is open to everyone! We meet to discuss various books each third Wednesday of the month at 7:00 p.m. in the Library Boardroom. Books are provided by the library and will be available for pick up four weeks preceding the monthly meeting. You can pick up a copy of the book at the Corvallis Library 2nd floor Reference Desk.
Questions? Contact us at the 2nd floor Reference desk. Phone: 541-766-6793; email: askalibrarian@corvallisoregon.gov.
We sponsor several other book clubs:
Already in a book club? You can 
check out sets of books
 from previous CBCPL book club meetings. The bags contain 8-12 copies of a book club title, and can be checked out for 2 months.