This Month's Book Club Selection
January CBCPL Book Club Selection
Carrie Ottow
Wednesday, January 18th | 6:30 – 7:30 p.m. (NEW TIME) | Library Main Meeting Room and Zoom*
NOTE: There is no meeting in December
*Please email us to get the link to join the virtual meeting.  Please note that you may choose to come to the meeting in person or virtually.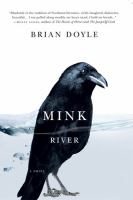 Mink River by Brian Doyle

"In Neawanaka, a small coastal Oregon town, Daniel Cooney, a 12-year-old who wears his hair in three different-colored braids, has a terrible bike accident in the woods and is rescued by a bear. Daniel's grandfather, Worried Man, is able to sense others' pain even from a distance and goes on a dangerous mountain mission to track down the source of time with his dear friend, Cedar. Other key stories involve a young police officer whose life is threatened, a doctor who smokes one cigarette for each apostle per day, a lusty teenage couple who work at a shingle factory, and a crow who can speak English. The fantastical blends with the natural elements in this original, postmodern, shimmering tapestry of smalltown life that profits from the oral traditions of the town's population of Native Americans and Irish immigrants." –Provided by the publisher
*Contact us for information on how to join!
Join us for our next book club meeting on January 18th (Note: we are not meeting in December) at 6:30 pm in person in the library Main Meeting Room, or via Zoom (please email us for the link to join the meeting). Pick up a copy of the book at the 2nd floor Reference Desk.
The Corvallis-Benton County Public Library Book Club is open to everyone! We meet in person and virtually via Zoom (please email us for the link, if you prefer to meet virtually) to discuss various books each third Wednesday of the month at 6:30 p.m. Books are provided by the library and will be available for pick up four weeks preceding the monthly meeting. You can pick up a copy of the book at the Corvallis Library 2nd floor Reference Desk.
Questions? Contact us at the 2nd floor Reference desk. Phone: 541-766-6793; email: askalibrarian@corvallisoregon.gov.
We sponsor several other book clubs:
Already in a book club? You can check out sets of books from previous CBCPL book club meetings. The bags contain 8-12 copies of a book club title, and can be checked out for 2 months.
Meetings are in-person and virtual (please email us for the link, if you'd like to join virtually) and on the third Wednesday of the month (unless otherwise noted) from 6:30-7:30 p.m.