Next Graphic Novel Club Selection
Tuesday, November 2nd  | 6:00 – 7:00 p.m. – NEW TIME! | GoToMeeting*
*Please email us to get the link to join the virtual meeting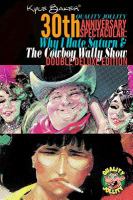 Why I Hate Saturn & The Cowboy Wally Show Double Deluxe Edition by Kyle Baker
"This special edition collects Kyle Baker's first two classic graphic novels in one volume, and also includes bonus materials and rarities such as an unproduced TV screenplay of Why I Hate Saturn written in 1990.
WHY I HATE SATURN: Cranky columnist Anne Merkel is only happy when she's complaining … about her editors, about being single in New York City, about running out of Scotch. But when her long-lost sister shows up claiming to be Queen of the Leather Astro-Girls of Saturn, Anne's going to wish she'd never complained about anything …
THE COWBOY WALLY SHOW: Television legend, star of stage and screen, and a successful entrepreneur. Not to mention a fat, obnoxious, beer-swilling loudmouth of questionable morals and taste. Yes, it's Cowboy Wally, star of 8 time Eisner Award-winning creator Kyle Baker's groundbreaking first graphic novel, so sit down for a wild look at at the ins and outs of the craziest rodeo on Earth." –Provided by the publisher
Copies of the book are available for check out from the 2nd floor reference desk of the Corvallis-Benton County Public Library – just ask at the desk!
Join us for our next book club meeting on November 2nd at 6:30 pm via GoToMeeting – please email us to get the link to join the virtual meeting.